When you first start studying Flexi classes, you can choose to take a class at any time. Everything is new, the system is flexible, and life is great. But have you ever almost finished a level and found yourself refreshing the "Book a Class" page, waiting for a class to pop up at a convenient hour?
So far, I have completed HSK 4+, 5, and now 5+. My studying pace always dramatically slows down as I reach the end of a level. Most of the classes I haven't taken yet are randomly scheduled late at night or during my working hours. I'm afraid Flexi the Lion no longer lives up to its name.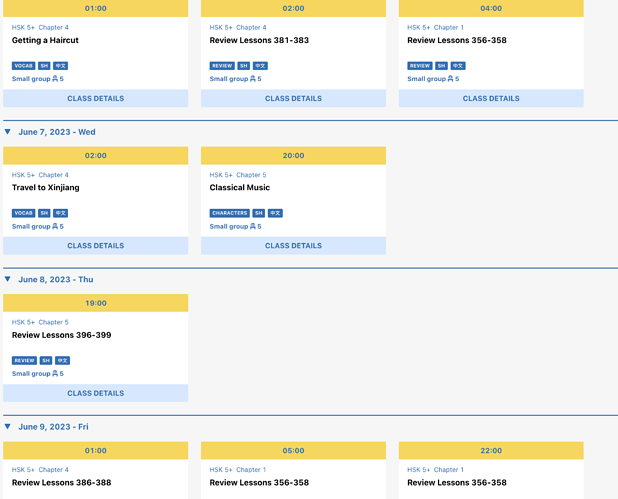 I know there are several strategies I could choose from, none of them ideal:
I can use the My Level page to find out when the class I haven't taken yet is scheduled (but the next convenient time slot could be months away).
I could take classes from the next level (but there is no HSK6 yet).
I could schedule a 1:1 with the topic I haven't studied yet (but that would cost me 3 credits instead of 1)
What if we could use the existing feature that allows us to schedule a 1:1 to "Study a Topic" but make it a group class (costing 1 credit) instead? We could call this "Propose a time to study". Since most classes are 1:1 anyway, this new feature will definitely bring in more revenue for the school.
I'm sure I'm not the only one who would be happy to use this.