Where? How? I see no link or headings.
Once you complete a class, you can go back to it (from My classes). You should see the button Rate my class (and the annotated handout).
We would love to hear your opinion on our teacher and material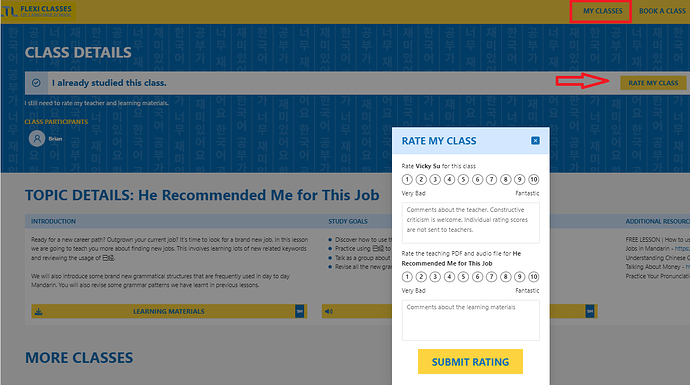 This will help our operations team keep working and improve the student experience. If you score teachers below 7, we will work with teachers right away for improvement. Please don't forget to let us know what you think we can improve. Or you can also email [email protected] for any recommendations.
Besides that, by rating at least 100 classes, you will be able to redeem 1 free week in one of our schools. For Mandarin, we have schools in Beijing, Beihai, Shanghai, and Taipei
Are the other mainland locations (Xian, Chengdu, Chengde) not available for that 1 free week?
No, it's not available yet in Xian, Chengdu, and Chengde because we only offer one-on-one classes there.
One free week in China is for small-group Mandarin classes. If you plan to go there, please email us in advance to check the availability.
Flexi Classes Rating Free Classes.docx.pdf (57.1 KB)